If you're a fan of the heart-pounding adventures showcased on Naked and Afraid, you're no stranger to the immense challenges of surviving in the wild, particularly in the rugged Alaskan terrain. But prepare to be amazed as we introduce you to an unlikely hero, Lulu, a blind and elderly golden retriever who faced the Alaskan wilderness head-on, alone, for an incredible three weeks.
Lulu, a beloved member of the Kubacki family, went missing on June 18, leaving her family distraught. "Lulu is more than just a pet; she's like family to us", Ted Kubacki shared with the Associated Press. "My five daughters, aged between 4 and 13, have practically grown up with her by their side."
Despite their relentless efforts to find her, Lulu remained elusive. The situation took a cruel turn when an individual heartlessly played a prank on the Kubacki family, falsely claiming to have found Lulu, only to reveal it was a cruel joke.
However, a glimmer of hope emerged on July 5 when a group of construction workers, initially mistaking Lulu for a bear, discovered her nestled in a salmonberry bush near a road close to the Kubacki residence. Recognizing a distressed animal in need of help, they sprung into action.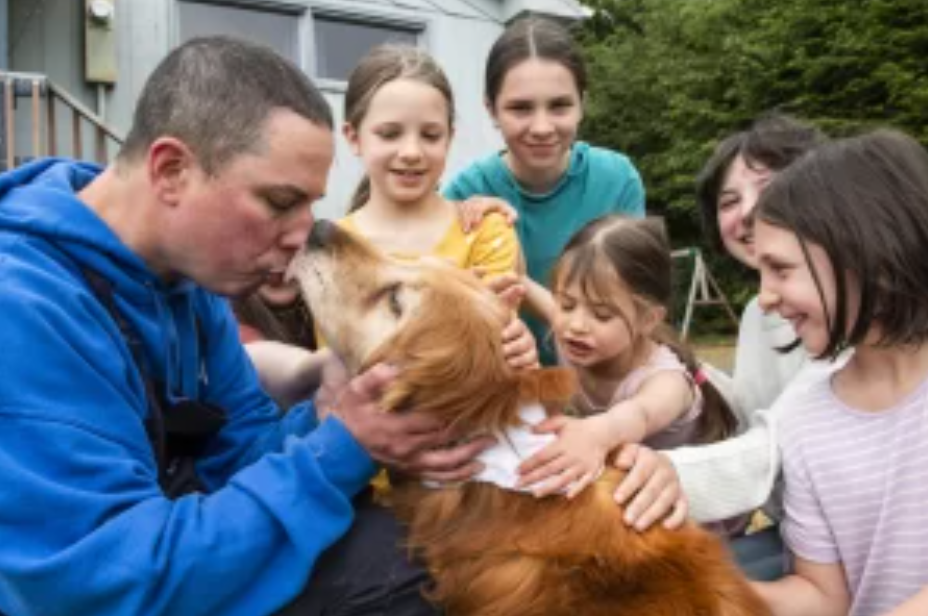 Upon receiving the news, Ted Kubacki described the overwhelming emotions that filled their home, saying: "The house echoed with screams of joy. But when we saw Lulu's condition after her ordeal, our hearts sank. She had lost a significant amount of weight and appeared utterly exhausted".
Kubacki continued: "We had expected a lively reunion, but she was so weak that she could barely lift her head".
With the dedicated care of a veterinarian, plenty of rest, and nourishing food, Lulu began her path to recovery. Ted Kubacki shared an emotional moment, saying: "It was truly heartwarming to witness the day she managed to muster the strength to lift her head and give me a gentle kiss".
The Kubacki family faced financial concerns related to Lulu's extensive veterinary bills, but their Sitka community rallied around them, offering generous donations to support the beloved dog's recovery.
In closing, Ted Kubacki expressed his gratitude, stating: "We are simply overwhelmed with joy to have Lulu back in our lives.
This heartwarming story reminds us that sharing is caring, and the strength of a community can make the impossible possible".