In a touching moment captured on video, an abandoned dog found solace in the comforting presence of a dedicated shelter worker who wanted to ensure she didn't wake up alone.
The footage beautifully illustrates a staffer embracing Prissy, a four-year-old hound mix, who had been left in a junkyard in Tennessee's scorching heat, along with her three precious puppies.
Prissy's journey took a positive turn when she was taken in by the compassionate team at the Conway Area Humane Society in New Hampshire. Following her spaying procedure, kennel supervisor Chrissy Ireland demonstrated extraordinary empathy and determination to assist her in the recovery process. Virginia Moore, the shelter's executive director, explained that spaying can be a traumatic and disorienting experience for dogs, which prompted Ireland to provide Prissy with unwavering companionship.
Moore added, "She didn't want her to wake up alone." This act of kindness was a testament to the commitment of the shelter's staff to the welfare of the animals they care for.
The heartwarming video, captured by Prissy's co-worker Debra Cameron, was shared on the shelter's Facebook page on July 16. It quickly garnered over 80,000 views, portraying Ireland gently stroking Prissy as she gradually stirred from her slumber.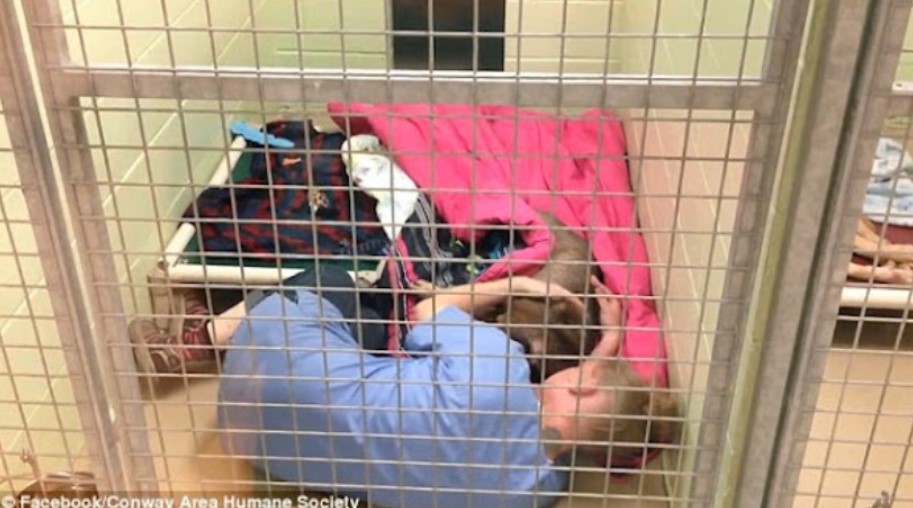 According to Moore, Ireland and the rest of the shelter's team often go to great lengths to bond with the animals in their care. The video was shared on Facebook to highlight the compassionate and nurturing environment that shelters provide for dogs in need.
Watch the heartwarming video below to witness this touching moment of connection:
Source: White Wolf Pack