When a TikTok user named Rescuermg decided to take a break from work to grab some cookies for her coworkers, little did she know she'd stumble upon something far sweeter than any treat.
As she drove down the road, her eyes were drawn to an abandoned box on the side of the road. To her astonishment, two puppies emerged from the box, desperate for help.
Without hesitation, she parked her car and stepped out to lend a hand. The two tiny, adorable pups couldn't resist approaching her, their curiosity overcoming their initial hesitation.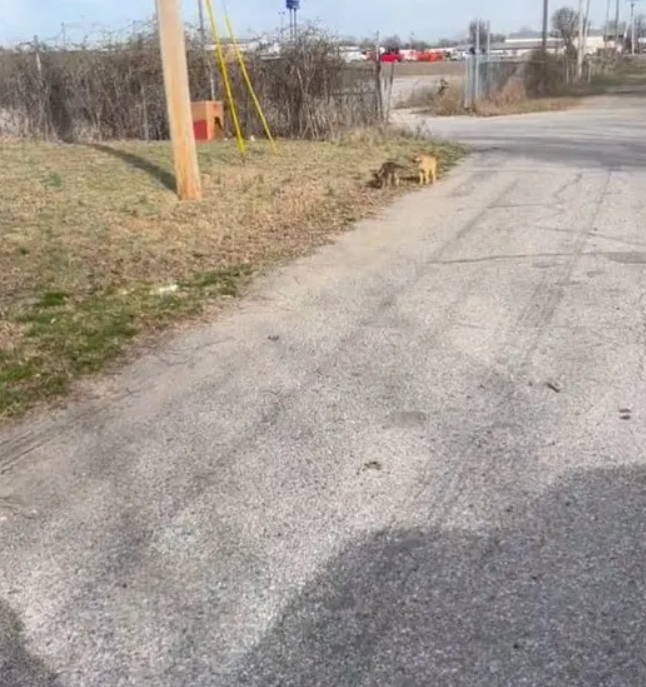 With gentle care, she scooped up one of the puppies and placed it in her car. However, before picking up the second one, she decided to check if there were any more siblings left in the box.
To her relief, these two puppies were the only ones in need. She returned promptly to gather the second puppy, who eagerly awaited a reunion with their sibling.
Given their dirty and emaciated condition, their rescuer wasted no time in taking action. The pups received a well-deserved meal, a soothing bath, deworming treatment, and 5-way shots.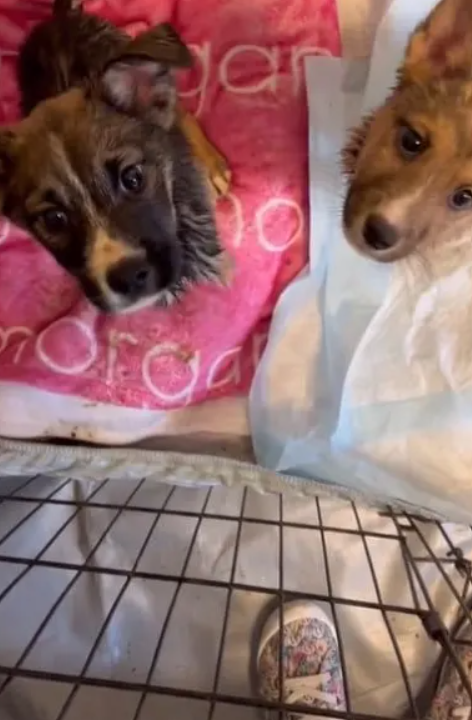 With the help of these medical interventions, the two little girls gradually regained their health and strength. In the warm and loving environment provided by their rescuer, their playful and endearing personalities began to shine through.
@rescuermg

Puppy update: The girls have had a good day so far! Think we've finally got all the worms out 🙌🏻 maybe we won't have as much mess to clean up (who are we kidding they're puppies 😂) you can see how thin they really are now, but I'm sure they'll be fat and happy before to long! I think they're German shepherd mixes with maybe some husky thrown in? They like to sing the song of their people, which I've found both breeds tend to enjoy doing 😂 Please spay/neuter, be a responsible pet owner, get involved with your local rescue, and be a good human! #rescue #rescuedog #puppiesoftiktok #puppy #puppyplay #puppyplaytime #rescuepuppy #happypuppies #southeastmissouri #missouridog
On their final visit to the vet, now named Blondie and Brownie, the pups brimmed with excitement. Their irresistible charm had already secured them forever homes. The only remaining step was obtaining their certificates of good health, allowing them to cross state lines.
@rescuermg

We went to the vets this morning to get their health certificate, saying they're healthy enough to cross state lines 🥰 Blondie did not enjoy the scale (same girl, same), and Brownie tried to jump off the table several times so she could go explore some more. They both enjoyed all the attention they got 💕 they leave Friday for their new foster home, who has already puppy proofed her house, and set up their new digs (separately because Brownie is turning into a bully 🥲). As stated in some comments on previous videos, they will be adopted out separately, due to littermate syndrome. It doesn't happen all the time, but the main goal is for happy forever homes, and they do not want one, or both returned, because they continue to fight. This can happen with puppies close to the same age as well, not just littermates. Again, this isn't the case with every dog/home, but these two definitely display symptoms, and its going to be best for them to be placed separately. #puppies #puppylove #puppiesoftiktok #rescuedog #dog #rescuedog #rescuedogsoftiktok #rescue #dogrescue #vettime #littermatesyndrome #germanshepherdhuskymix #germanshepherd #husky #missouri #missouridogs
As Blondie and Brownie were adopted separately, the two sisters cherished every moment together before embarking on their separate journeys. We wish them all the happiness and love they deserve in their new lives.